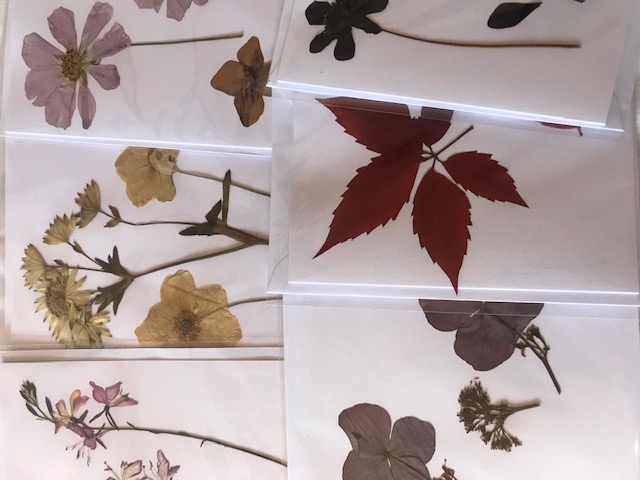 I was with some very old friends at the weekend who pointed out that my last Blog was dated 2016 and that potential clients might think I have done nothing in the last five years!  The truth is quite the opposite and also the reason for my rather tardy update!  It has been a very interesting few years for everybody and the last two for me have been a time for reflection, some very lovely projects and for the first time in thirty years a little bit of 'me time' thrown into the mix.
During lockdown I found time to indulge in my love of growing plants and spent many a happy hour in the greenhouse nurturing little seedlings which I have been selling in a couple of retail outlets.  This certainly kept me busy but would never be a sustainable occupation.  I also decided to pick and press some of the flower heads and have started making cards.  The image shows just a few of my efforts.  I love doing this and hope to spend maybe one day a week during the winter indulging in alternative crafts.  A recent introduction to soap making could, I fear, become addictive.  It is all very well producing home made crafts but with no secure outlet to sell them I risk filling my house with unwanted clutter.
As mentioned above there have been some lovely projects completed and a few still on the go, some of which are likely to evolve over the next two to three years.  It is always lovely to work on these projects and to watch the garden grow, quite literally.  Many more clients are including vegetables within their schemes.  This is wonderful as I have, throughout my career encouraged this, even if it is a one meter square plot for the children.  The vegetable patch here has been prolific this year.  Whether it is because I finally installed framed netting to discourage cabbage whites I am not sure but I have a wonderful array of brassicas for the winter kitchen.  I have also noted a switch to more indigenous planting schemes which also makes me very happy.
It is now time to get the garden ready for the winter and these warmer days over the last week have been ideal for tidying up the borders and getting leaves raked up.  The Gaura and Cosmos are still offering amazing colour in the garden, together with vibrant Salvia and of course Verbena bonariensis.  What marvellous value they offer with their extended flowering from June right through to the first frosts.  Another job during lock down was to create a plant bible for myself which is proving invaluable.  If I had the time and more particularly the expertise it would make a wonderful website for designers and clients alike.  That is another story altogether.  It does mean that when I produce a Plant Schedule for my clients, I am able (without too much effort) to produce a very personalised package relating to their planting scheme.
It is time to go and lay out some plants for a client just down the road.  I sincerely hope it is not 5 years before I return to this blog to add some more up to date news.
POP-UP SHOP
The first pop-up shop at 'Yeopen Day' Yeo Valley Food and Plant Fair on Sunday 24 April 2016.  Jane is now selling a selection of herbs in zinc pots together with a carefully selected range of garden and home wares.